NEED HELP?
Please feel free to contact us. We will get back to you within 1 business day. Or just call us now on either of the telephone numbers listed below.
 01932 798 014

 07713 863 783
A CLEAN SWEEP LIMITED USE THE MOST ADVANCED AND ACCURATE CAMERA SYSTEMS TO DIAGNOSE YOUR CHIMNEY PROBLEMS QUICKLY AND EFFICIENTLY.
A Clean Sweep Limited use the most advanced and accurate camera systems to diagnose your chimney problems quickly and efficiently so we can resolve them with the best and most appropriate solution.
In order to locate issues, infrared CCTV cameras are passed up and down the flue to give a highly accurate picture of the problems.
This enables us to:
View blocked flues or restricted flues caused by animal nests, fallen debris, restricted bends or other objects breaching the flue
Identify the flues dimensions and confirm the most appropriate lining method
Establish the cause of a major smoke leakage
Check for damage which may have occurred following chimney fires, subsidence or wear and tear over time
Our highly advanced CCTV equipment diagnoses the problem quickly and effectively without any disruption to you or your building.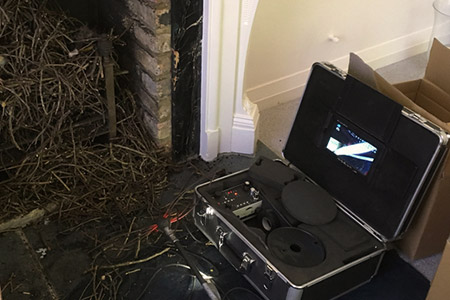 DON'T BE SHY, DO CONTACT US!