BIRD GUARDS, POTS & COWLS
NEED HELP?
Please feel free to contact us. We will get back to you within 1 business day. Or just call us now on either of the telephone numbers listed below.
 01932 798 014

 07713 863 783
AT A CLEAN SWEEP LIMITED WE CAN SUPPLY AND INSTALL A RANGE OF CHIMNEY POTS, COWLS AND BIRD GUARDS.
A new Chimney Pot may be required if the chimney does not currently have one or maybe the current one has cracked or even flaked away. We can supply a range of sizes and we try our best to access the chimney stack from roof ladders to avoid the cost of expensive access equipment or scaffolding.
You may require a Cowl/Bird Guard if you would like to prevent rain, birds, squirrels from entering the flue. We can supply a wide variety of Cowls for our customer's preference.
The fitting of a cowl is very beneficial especially for fireplaces or stoves that are in use. They mainly prevent birds from nesting and water from entering the chimney which could cause dampness within the chimney. You can also help prevent anti downdraught by having an anti downdraught cowl fitted, or even a spinning cowl to help increase the updraught.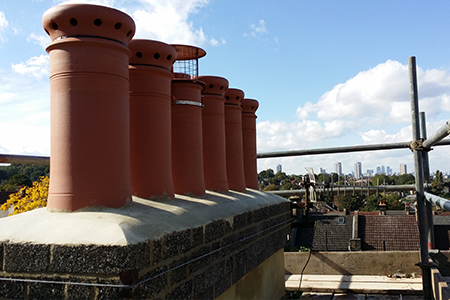 If you have a redundant flue and have no intention of using it, we can supply clay ventilation cowls which will stop rainwater from entering the flue but will still allow the flue to breathe so moisture and bad odours can still evacuate through the chimney.
For any advice or to book in for fitting then please feel free to call us to discuss your requirements.
DON'T BE SHY, DO CONTACT US!